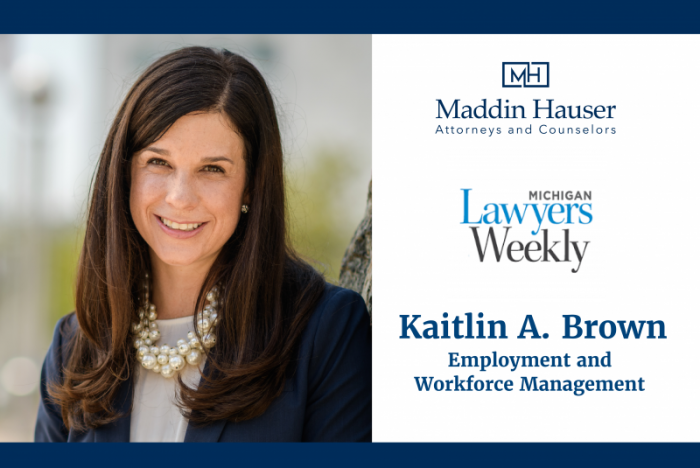 Kaitlin Brown Talks With Michigan Lawyers Weekly About Large Employers' Efforts to Comply with Federal COVID-19 Vaccination Mandate
Michigan Lawyers Weekly recently spotlighted Kaitlin A. Brown in a feature article on the obstacles big companies face as they attempt to implement measures to comply with the Biden administration's mandatory vaccination policies. Katie is a shareholder in Maddin Hauser's Corporate and Business and Employment and Workforce Management groups.
On November 4, 2021, the Occupational Safety and Health Administration (OSHA) announced new rules for implementing and enforcing mandatory COVID vaccination policies for companies with 100 or more employees. Under the new regulations, employers have a choice to either require vaccinations across their workforces or implement protocols to compel workers to get vaccinated or undergo regular COVID testing and wear protective face coverings on the job.
As Katie noted in the article, employees' religious exemption requests pose challenges for large businesses. "Employers should develop a consistent process through which the employer evaluates each exemption request on a case-by-case basis. Employers should never question the religious belief itself, but may question the sincerity of the belief."
Katie also commented on whether employers should postpone implementing vaccination policies until litigation over OSHA's mandate ends. Additionally, she addressed best practices for communicating and rolling out new workplace rules.
Read the full article (subscription required): "New Vaccination Rules Top 'To-Do' List for Employers"