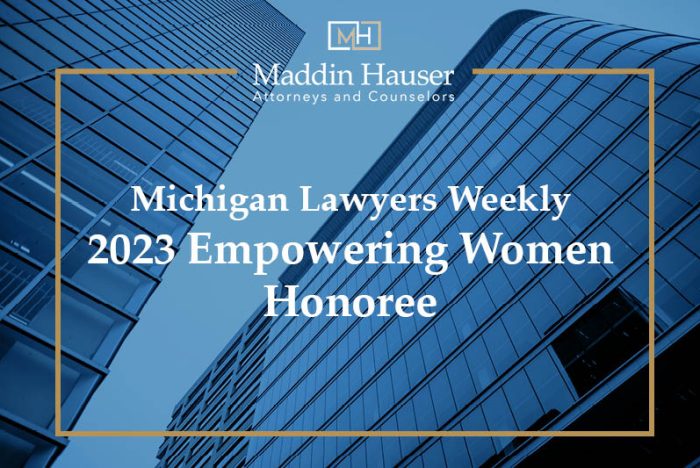 Maddin Hauser Selected for Michigan Lawyers Weekly's Inaugural "Empowering Women" Awards
Michigan Lawyers Weekly selected Maddin Hauser as an honoree in its inaugural class of Empowering Women Awards. We are thrilled to have earned this important recognition as a firm deeply committed to promoting and elevating women.
Newly launched in 2023, this program recognizes law firms and legal departments successfully supporting and elevating women attorneys. Honorees range from large firms to boutique practices, demonstrating a commitment to hiring, promoting, mentoring, and providing professional advancement to women attorneys. These firms possess established programs and policies to help women attorneys thrive professionally.
What Makes Maddin Hauser a Firm That Empowers Women?
Maddin Hauser is – and has always been – dedicated to the success and development of its women attorneys. The firm offers challenging opportunities to its female lawyers and celebrates their achievements. By fostering and cultivating an environment with diverse voices and perspectives, our office culture is positioned to best serve our clients.
To promote diversity and inclusion within the firm, several women attorneys joined forces in 2019 to establish our "Success through Empowerment and Engagement Committee" (the "SEE Committee"). The concept developed organically as more women attorneys joined the firm and assumed management roles. The Committee's programs provide resources and connections for developing the firm's female attorneys, personally and professionally.
Maddin Hauser and its SEE Committee are involved in numerous internal and external outreach programs. We also recently launched The Maddin Hauser Way, a set of fundamental values that all employees universally embrace. Extraordinary is our goal, and these values set the stage for how we relate to each other, our clients, and the larger community.
Our commitment to creating an inclusive workplace culture is not limited to our attorneys. The firm has also hosted programs for all employees to promote personal and career satisfaction, covering financial health and estate planning topics. We continually evaluate and refine our policies to ensure a workplace that supports, attracts, and retains diverse attorneys, including women.
As we look to the future, we are broadening the firm's presence to reach more diverse applicants, including sponsoring Detroit Mercy Law's Black Law Students Association Vegas Night fundraising event and offering a free six-week Summer Institute open to all law students. Attorneys from all backgrounds can succeed at Maddin Hauser, and we are intent on recruiting top talent that contributes to the firm's success and strengthens its culture.