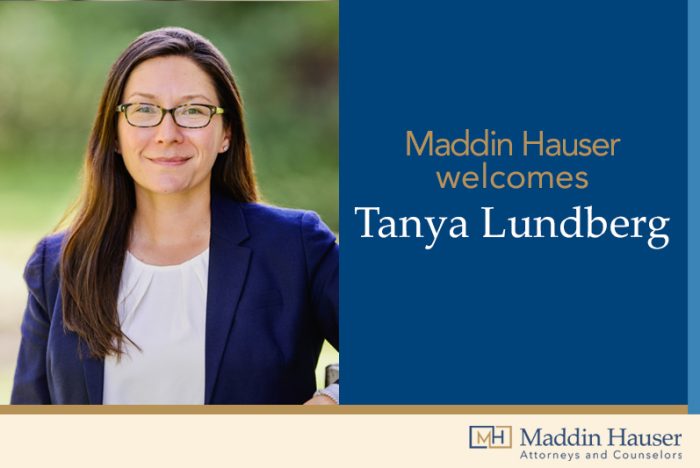 Maddin Hauser Welcomes New Associate Office Administrator
Maddin Hauser is pleased to announce that Tanya E.J. Lundberg has joined the firm as an associate office administrator. Tanya will work alongside Chief Office Administrator Christina Barnett. She joins Maddin Hauser from University of Detroit Mercy School of Law, where she was the Assistant Dean of Career Services and Outreach.
For nearly 20 years, Christina has worked tirelessly behind the scenes to make Maddin Hauser a premier law firm and an employer of choice. Christina will continue her responsibilities, including human resources, benefits, payroll, new staff onboarding, information technology, finance and accounting, and facilities management. Tanya will support Christina and, consistent with the firm's strategic growth plan, assist in the firm's recruiting efforts and enhancing professional development opportunities.
"Maddin Hauser now has a powerhouse team handling our office administration," said Steve Sallen, firm president and CEO. "Chris is an integral part of the firm, and it's her leadership and hard work that contributes to our continued success. Adding Tanya's vast experience with recruiting, attorney development, and prior experience as a practicing attorney perfectly complements our strategic growth vision."
Passionate about giving back to the Detroit legal community, Tanya serves on the Women Lawyers Association of Michigan's board of directors and is a past president of the Women's Bar Association. She graduated cum laude from Wayne State University Law School in 2007 and earned her Bachelor of Arts in Political Science from the University of Michigan-Dearborn in 2003.