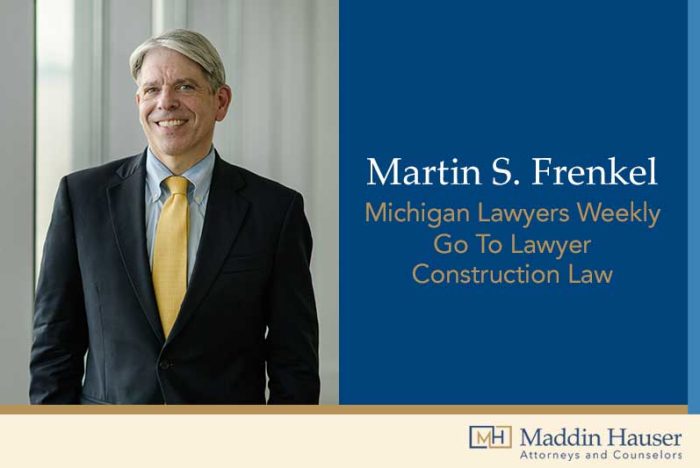 Marty Frenkel Named a "Go To" Lawyer in Construction Law by Michigan Lawyers Weekly
Maddin Hauser is thrilled to announce that Michigan Lawyers Weekly selected Executive Committee member Martin S. Frenkel as a "Go To" lawyer in construction law.
The "Go To Lawyers" program recognizes legal leaders in a particular field of law as nominated by their peers. These elite attorneys are highly skilled in their field, enjoy a record of success, are a top-of-mind referral by friends and other lawyers, and someone who thinks creatively and explores all options for a client.
What Makes Marty a "Go To" Lawyer?
Marty is a leader inside and outside Maddin Hauser. In addition to his busy practice, he is a member of the firm's Executive Committee, serves as co-chair of the Financial Services and Real Property Litigation group, and is actively involved with the firm's strategic planning and marketing.
As a distinct and unique legal discipline, construction has been at the heart of Marty's practice for decades. He is a highly skilled and sought-after advocate and counselor in construction law and practice. Driven by his efforts and energy, Maddin Hauser has developed one of the foremost construction law practices in the Detroit area. He also routinely represents mortgage lenders and servicers, depository institutions, real estate developers, title insurance companies, and commercial landlords and property owners. 
Because of his diverse experience and clientele, Marty understands how the construction industry is impacted by other sectors of the economy and practice disciplines. His construction industry clients include owners, contractors, subcontractors, design professionals, and lenders involved in various construction law matters.
Marty navigates clients through all areas of construction practice including contract drafting, litigation, arbitration, and mediation concerning a wide range of construction-related issues. He has handled matters involving public and private works, bid protests, contract defaults, professional liability, construction defects, extra work claims, changed condition claims, delay claims, mechanic's liens and stop notice claims, surety bond claims, and construction related insurance claims.
The Epitome of Client Service Excellence
Marty has a clear vision for delivering exceptional client service:
Approach every engagement with the urgency, diligence, and importance you would expect if you were the client.
Exercise pragmatism and be knowledgeable about the client's business.
Always place the client's interests above your own.
Proceed with efficiency.
Be willing to tell the client bad news when there is bad news to tell.
This seemingly simple approach has produced many intensely loyal construction industry clients who often compliment Marty and his colleagues about their superior service and results. With humility and empathy, Marty strives to serve as that trusted advisor known for straight talk. The payoff is the relationship and consistently doing the right thing for his clients.