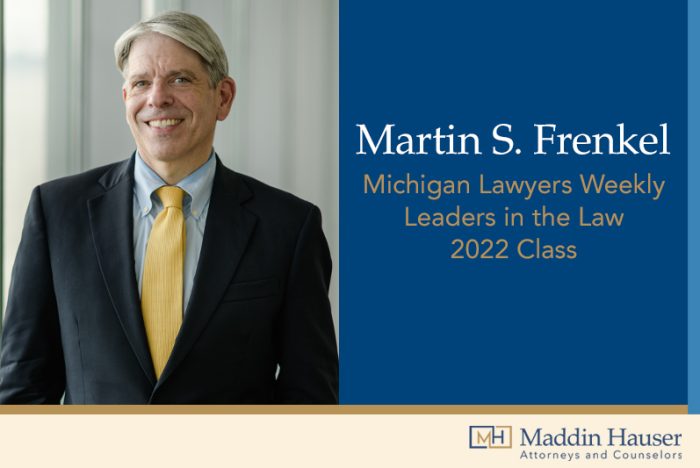 Marty Frenkel Selected for Inclusion in Michigan Lawyers Weekly "Leaders in the Law" 2022 Class
Maddin Hauser is thrilled to announce that Executive Committee member Martin S. Frenkel was selected by Michigan Lawyers Weekly for its 2022 class of "Leaders in the Law."
The honorees continuously set the standard through a commitment to excellence in the practice of law. They are inspiring and accomplished leaders in the profession who seek improvements to the legal community and their communities at large. Honorees also show leadership in improving the justice system in Michigan, contribute significant time to volunteerism, and offer a wealth of expertise in diverse areas of the law.
What Makes Marty a Leader in the Law?
To describe Marty Frenkel, one might use the same terms that apply to the firm where he has practiced since 1997: A leader in deeds and words, understated while also locally and nationally respected for strategic and pragmatic advice, a partner who earns profound trust from clients and is entrenched in their businesses, highly knowledgeable yet approachable, and a collaborator who is easy to work with while also setting and exceeding expectations.
The terms that define Marty and Maddin Hauser are synonymous because the firm's small but mighty presence in legal and business circles across the country is due in significant part to Marty's vast accomplishments, exemplary professionalism, and positive influence – the qualities of a true Leader in the Law.
Marty is a skilled advocate and counselor in real estate and financial services risk management, litigation, and regulatory compliance, with particular emphasis on mortgage, banking, construction, real estate development, landlord/tenant, land use, complex insurance coverage, and title-related issues. Driven by his efforts and energy, Maddin Hauser has developed one of the foremost financial services practices in the U.S., advising mortgage lenders and servicers, depository institutions, title insurance companies, construction companies, and commercial landlords and property owners on a national basis.
Marty and the department he oversees have litigated financial services cases in more than 40 states, negotiated countless cutting-edge vendor-related agreements and secondary market transactions, and advised clients around the country on myriad enterprise risk-related issues. Beyond their lawyering abilities, Marty and his group are known for their project management and process improvement talents including in instances where clients outsource aspects of their internal operations to Maddin Hauser – a rare occurrence within such a large and highly-regulated industry.
Marty's Practice and Signature Accomplishments
After graduating from law school, Marty began his legal career in the Michigan Attorney General's Office. As an assistant AG, he developed and honed his exceptional litigation skills and became familiar with the courtroom and working with the Michigan State Police undercover units. Marty also learned how to collaborate with other government agencies to prosecute criminal tax fraud cases successfully.
That experience benefitted Marty later when he and his team of Maddin Hauser attorneys represented several mortgage servicers in collaborating with the FBI in investigating one of the most far-reaching mortgage fraud schemes in U.S. history. Working with government authorities, Marty and his team unraveled an extraordinarily complex real estate and banking conspiracy. Similarly, under his leadership, Maddin Hauser was one of only nine law firms selected by the U.S. Office of the Comptroller of the Currency and the Federal Reserve Board to act as independent audit counsel, assisting the federal government in determining whether an estimated 4.5 million homeowners suffered financial injury from errors during home foreclosure proceedings during the last housing crisis.
Marty's involvement in those first-of-their-kind regulatory cases demonstrated his depth and breadth and Maddin Hauser's capabilities beyond what most other Michigan law firms could offer, regardless of their size. Marty's experience in multidistrict litigation brought by U.S. trustees' offices to regulate the bankruptcy practices of some of the country's largest mortgage servicers further distinguishes him from other attorneys. Over time, he has shown the financial services industry that the counsel and operational expertise they thought could only be performed by different firms could now be found in a single resource – Marty and Maddin Hauser.
An advocate of the firm's holistic approach to delivering efficient and cost-effective legal services on multiple levels of a client's business, Marty regularly shows how his methods can positively impact the client's overall bottom line.
The Epitome of Client Service Excellence
Marty has a clear vision for delivering exceptional client service:
Approach every engagement with the urgency, diligence, and importance you would expect if you were the client.
Exercise pragmatism and be knowledgeable about the client's business.
Always place the client's interests above your own.
Proceed with efficiency.
Be willing to tell the client bad news when there is bad news to tell.
This simple approach has produced many intensely loyal clients who often compliment Marty and his colleagues about their superior service and results. With humility and empathy, he strives to become a trusted advisor. As one national client said to him. "I deal with hundreds of firms across the U.S., but I'm confident that only a few – including Marty – truly have my back."
A Leader Within Maddin Hauser and His Community
As a member of the firm's Executive Committee, Marty is thoughtful and deliberate. He has been a driving force behind Maddin Hauser's recent rebranding and the formation of a new strategic plan on the eve of the firm's 100th anniversary.
Colleagues throughout the firm rely on him to get things done. At the same time, Marty is constantly learning from anyone with something to teach, up and down the food chain.
Marty also gives back through charitable and community involvement. He is a strong supporter of Gleaners Community Food Bank, the University of Michigan (his alma mater), the University of Michigan Cancer Research Center, Yad Ezra (an area nonprofit addressing food insecurity), the Jewish Fund of Detroit, the Committee on Temporary Shelter (COTS), and Oakland Family Services.
Outside the office, Marty's focus has always been on his children. His daughter is a University of Michigan School of Engineering graduate who works for Facebook. His son is a junior at Miami University in Ohio, majoring in sports leadership and management with an eye toward a career in broadcast media. His pride in them has no limit.
Marty Frenkel is a leader in whatever circle he travels, earning respect and admiration from colleagues, peers, and clients alike.