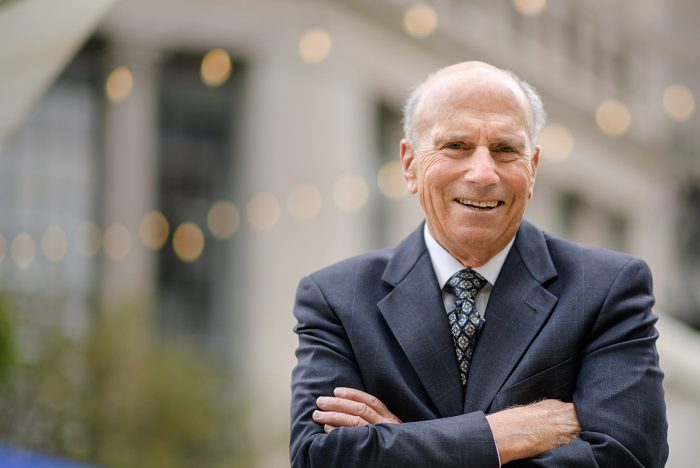 Michael W. Maddin Elected as Life Fellow of the American Bar Foundation
Recently, the Board of Directors of the American Bar Foundation (ABF) and Fellows Officers elected Michael W. Maddin as a Life Fellow of the American Bar Foundation. Maddin, a founder and President Emeritus of Maddin, Hauser, Roth & Heller, P.C. was elected in recognition of his exemplary dedication to the legal profession, commitment to the work of the American Bar Foundation, and support for the ideals and objectives of the American Bar Association.
Mr. Maddin is also a member of the Real Property Law Section Council of the State Bar of Michigan and, for many years, has served as Chairman of the Commercial Leasing and Management Committee of the Real Property Law Section of the State Bar of Michigan. He has been a speaker at numerous ICSC, ICLE, National Business Institute and State Bar of Michigan Real Property Law Section Seminars, and has authored numerous real estate related articles in professional journals.
Maddin's career as a community leader is equally impressive. He has served as Chairman of The Jewish Fund, U of M Hillel Board of Trustees and Jewish Federation of Metropolitan Detroit's Endowment Fund. He has also served as President of the United Jewish Foundation, Fresh Air Society, and Franklin Hills Country Club. He has chaired numerous projects and campaigns including the United Jewish Foundation 100th Anniversary and the recently launched Fresh Air Society's Tamarack Memories Project. Maddin has been an active supporter and participant in the Jewish Historical Society of Michigan (JHSM) activities since receiving the Leonard N. Simons History Award in 1999. He received this award for his focus on the preservation of Detroit's Jewish history, in particular, his role as chair of the committee to sponsor a volume of the history of Detroit area Jewry. In 2003, Maddin also received the Fred M. Butzel Memorial Award for Distinguished Community Service. He has served as a member of the JHSM Advisory Board and, in 2014, was elected to the JHSM Board of Directors as President.
Additionally, Mr. Maddin has been continuously selected by his peers for inclusion in the annual editions of Best Lawyers in America® since 2003 in the area of real estate law, as well as DBusiness' list of Top Lawyers. He has been named among the top 100 Michigan Super Lawyers, and has been awarded special recognition by Chambers USA: America's Leading Lawyers for Business.
The American Bar Foundation's mission is to serve the legal profession, the public, and the academy through empirical research, publications, and programs that advance justice and the understanding of law and its impact on society. Created by the American Bar Association more than sixty years ago, and supported by annual grants from the American Bar Endowment, the ABF is an independent, non-profit organization that conducts large-scale research projects on the most pressing issues facing the legal system in the United States and the world.