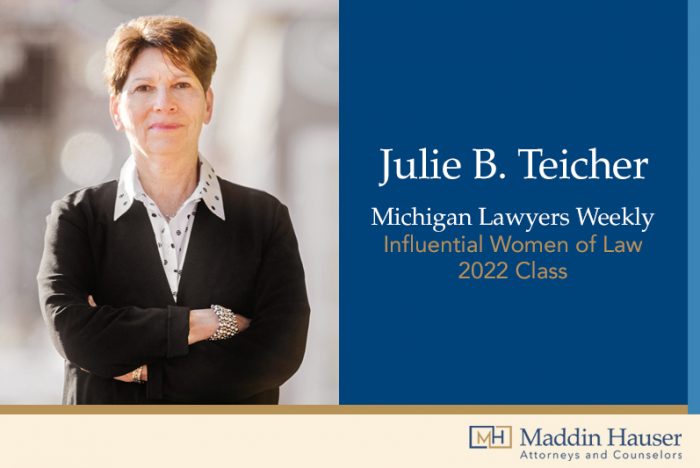 Michigan Lawyers Weekly Names Julie Teicher to Its 2022 Class of "Influential Women of Law"
Maddin Hauser is thrilled to announce that shareholder Julie B. Teicher was selected by Michigan Lawyers Weekly for its 2022 class of "Influential Women of Law."
Previously known as "Women in the Law," this awards program honors women attorneys and judges for their excellent work on behalf of the justice system and their clients, their commitment to their communities, and their service to the profession. The honorees are inspiring and accomplished leaders and mentors who contribute significant time and effort to volunteerism and pro bono initiatives.
What Makes Julie an Influential Woman of Law?
Julie has focused her practice on business-related insolvency and bankruptcy matters for 40 years. She tackles cases in U.S. Bankruptcy Court, U.S. District Court, and state courts, where she represents debtors, creditors, receivers, purchasers, and parties of interest. Julie has extensive experience representing debtors and creditors in business / commercial cases filed under Chapter 11. Debtor clients have included real property developers, physicians, retail, and manufacturing entities. Creditor clients have included healthcare companies, financial institutions, trustees, landlords, and real estate companies. Julie also has extensive experience representing Parties-in-interest in individual and business Chapter 13 and Chapter 7 bankruptcy cases. Throughout her four-decade career, Julie has served as a court-appointed receiver, as the trustee of a liquidating trust, and has been involved in various hospital bankruptcies.
As a Certified Bankruptcy Court Mediator, Julie is nationally recognized for her bankruptcy expertise. She not only represents clients in Michigan but has counseled parties across the United States. In addition, she serves as Michigan bankruptcy counsel for out-of-state lawyers who have cases in a Michigan federal, state, or bankruptcy court.
Julie has received numerous accolades for her bankruptcy work. In 2019, she was inducted as a Fellow of the American College of Bankruptcy, an honorary professional and educational association of bankruptcy and insolvency professionals. An AV-rated attorney by Martindale Hubbell, Julie has long been named a bankruptcy "Top Lawyer" by DBusiness Magazine and ranked by Leading Lawyers, Best Lawyers in America, and Super Lawyers.
Helping the Profession & Community
Julie makes it a point to give back to her profession and community. One example is her longstanding service on the Bankruptcy Court Pro Bono Panel and the Bankruptcy Court Mediation Panel.
Julie enjoys sharing her expertise with other attorneys and professionals. She frequently presents at seminars, including the American Bankruptcy Institute's Central States Workshop and the ABI Hon. Steven W. Rhodes Consumer Bankruptcy Conference (formerly known as the Veteran's Day Detroit Consumer Bankruptcy Conference). Julie has provided insight on many topics over the years, including alternatives to bankruptcy, receiverships in commercial real estate matters, and creditors' rights in the metal-forming business sector.
Active in her local community, Julie has been on the Jewish Family Service of Metropolitan Detroit (JFS) board for the last ten years and has served as board chair for the past three years. JFS provides safety net services to the Jewish and non-Jewish communities, primarily in Oakland and Wayne counties. Some safety net services include helping Holocaust survivors age in their homes with appropriate support. Julie's term as JFS board chair ended June 1, 2022, but she will remain on the board and executive committee for the next two years.
Julie also served as president of Adat Shalom Synagogue in Farmington Hills from 2010-2012, when the synagogue had about 950 member families. Before she served as president, Julie was on the synagogue's executive committee and board for many years.
When she is not practicing law, Julie loves being with her family and sharing time at their vacation cottage. She likes to kayak, bicycle and hike, especially with Mark, her husband of 41 years, who is also an attorney. Julie's other hobbies include gardening, cooking, and refinishing furniture.