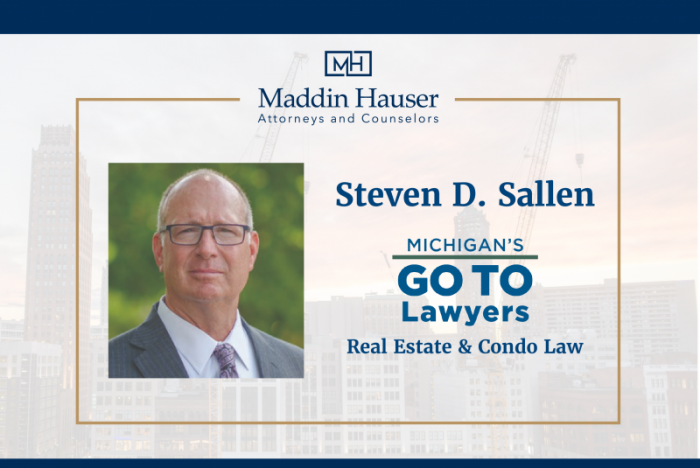 Michigan Lawyers Weekly Honors Steven D. Sallen As a "Go To Lawyer" in Real Estate and Condominium Law
Michigan Lawyers Weekly has announced its first-ever class of "Go To Lawyers" in real estate and condominium law, an esteemed group that includes Maddin Hauser President and CEO Steven D. Sallen.
Over the course of a legal career spent entirely at Maddin Hauser, Steve has become one of Michigan's foremost real property lawyers, representing various developers, general contractors, brokers, and investors. He has negotiated transactions involving some of the most significant projects in the state.
Steve shares his subject matter expertise as a frequent author on real property topics. His articles have been published in Crain's Detroit Business, Michigan Lawyers Weekly, and other legal and business outlets.
According to the award criteria, a Go To Lawyer is:
An expert in their field, well-versed in the nuances of the case law, statutes, and regulations clients will encounter.
Experienced and enjoys a record of success, with many matters that give testimony to the quality advice they can provide.
A creative thinker who identifies all options for a client.
One to whom other lawyers make referrals because of their expertise and accomplishments.
An attorney another Michigan lawyer might call when requiring legal help in that field.
Steve's Go To Lawyers recognition is not the first honor Michigan Lawyers Weekly has bestowed upon him. He was inducted into that publication's first ever Hall of Fame class in 2020 and named to its 2005 class of Leaders in the Law.