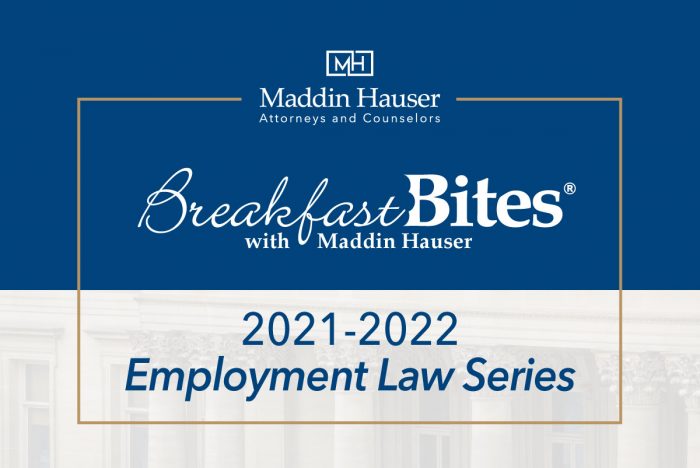 2021-2022 Breakfast Bites®: Employment Law Series Materials
Visit the 2021-2022 Breakfast Bites Employment Law Registration Page
---
Session 8: Risk Management: What to do When You See an Employment Claim Turning Into Litigation
June 16, 2022
Presented by John A. MacKenzie
Key Topics:
Document the case to strengthen claims and defenses.
Trigger and preserve the attorney-client privilege and work product protections in anticipation of litigation.
Understand potential damages, including mitigating risk and liabilities arising from employment claims.
---
Session 7: Leave Laws: The Intersection Between Paid, Sick, and Legally Required Leaves
May 19, 2022
Key Topics:
Learn about the interplay between paid time off policies and statutorily required paid sick leave.
Understand legal obligations to provide unpaid leave.
Review best practices for implementing and managing flexible or unlimited paid time off policies.
---
Session 6: Investing in Management: Providing Training and Conducting 360 Reviews
April 21, 2022
Presented by Ronald A. Sollish
Key Topics:
Learn the importance of training managers to identify workplace issues and understand their role in mitigating legal liability.
Understand the individual liability managers can face based on their actions (or failure to act).
Identify how managers can best intervene and engage with employees to optimize their team.
Watch the video:
---
Session 5: Mind the (Generation) Gap: Effective Communication in the Workplace
March 17, 2022
Presented by Corinne S. Rockoff
Key Topics:
How do expectations and priorities differ across generations?
Understanding the legal protections against age discrimination.
Generational reactions to post-pandemic changes in the workplace.
Watch the video:
---
Session 4: What's the Worst that Can Happen? Protecting Employers with a Comprehensive Data Protection Plan
February 17, 2022
Key Topics:
Mitigating risk with noncompete and nondisclosure agreements.
Legal implications and responsibilities if your data has been breached.
Update on current legal trends and potential liabilities.
Watch the video:
---
Session 3: Recruiting and Retaining Employees: Attracting Top Talent to Your Business
January 20, 2022
Key Topics:
Establishing a competitive business by knowing your employees and market.
Recruitment challenges and solutions for attracting top talent.
Strategies for retaining employees who drive success.
Watch the video:
---
Session 2: Organizational Culture: The Impact of Remote/Hybrid Workplaces
November 18, 2021
Presented by Kathleen H. Klaus
Key Topics:
The Pros and Cons of Maintaining the Pre-Pandemic Culture.
Returning to Work in Person, Remote, or Hybrid Offices.
Creating and Updating COVID-19 Preparedness & Response Plans.
Download the Outline | Download the Presentation
Watch the video:
---
Session 1: The Great Resignation: Filling Open Positions with Non-Employee Workers
October 21, 2021
Key Topics:
What is the Relationship? Independent Contractors, Temporary Workers, Outsourcing, Work to Hire, and PEO's.
How to Choose the Appropriate Worker to Fill the Gap.
Legal Considerations to Protect the Company when Hiring a Non-Employee.
Download the Outline | Download the Presentation
Watch the video:
---
Content is intended to be instruction overviews and should not be considered legal advice.