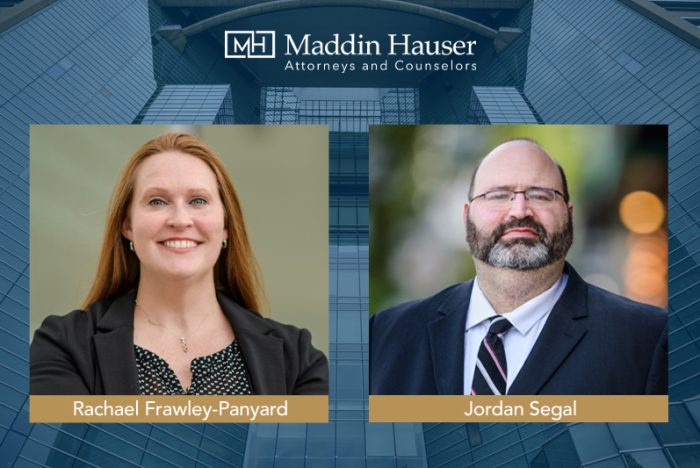 Maddin Hauser Promotes Rachael Frawley-Panyard and Jordan Segal to Shareholder
Maddin Hauser is pleased to announce that Rachael Frawley-Panyard and Jordan Segal have been promoted to shareholder. 
Specializing in real estate litigation and real property law, Rachael is a member of the Financial Services and Real Property Litigation group. She focuses her practice on mortgage-related disputes, construction liens, and title insurance coverage claims. Her prior law firm experience includes business litigation, contract disputes, and creditor's rights in collection disputes.
Rachael is recognized as "One to Watch" in real estate litigation by Best Lawyers. She earned her Juris Doctor from Wayne State University Law School and her Bachelor of Arts from Michigan State University.
Jordan enjoys a diverse practice representing clients in various business and employment matters. He is a member of the firm's Corporate and Business, Employment and Workforce Management, and Real Estate practice groups. Jordan regularly drafts employee non-competition, non-solicitation, and non-disclosure agreements and architectural, engineering, and construction contracts.
Before joining Maddin Hauser, Jordan was general counsel for a national real estate developer, providing legal advice on all aspects of commercial real estate development. He earned his Juris Doctor from The George Washington University Law School and his Bachelor of Arts, cum laude, from Amherst College.