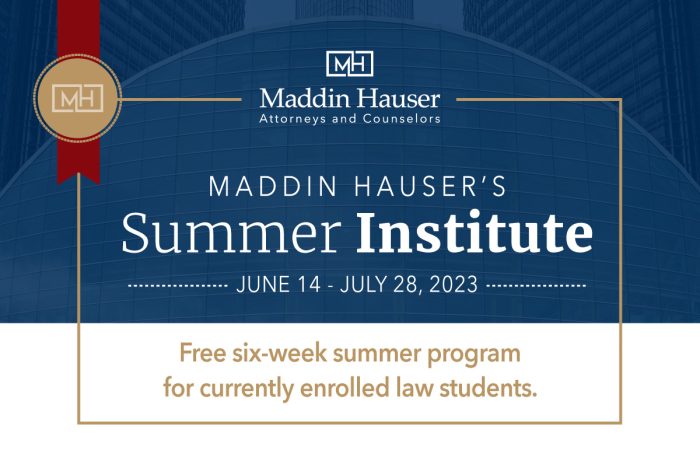 Maddin Hauser's 2023 Summer Institute
Free Six-Week Summer Program:
June 14 – July 28, 2023
Are you a current law student looking to gain insight and perspective about working in a law firm?
The Success Through Empowerment & Engagement (SEE) Committee at Maddin, Hauser, Roth & Heller, P.C. seeks to meet the need for law student summer learning experiences by offering a free six-week summer program covering transactions, litigation and best practices for navigating your legal career.
Participants are eligible to attend whether or not they have secured summer internship positions. The sessions are scheduled to accommodate attendance prior to beginning the workday.
At the conclusion of the program, participants will receive a Certificate of Completion along with real-world, practical law firm learning experience.
The mission of the Maddin Hauser SEE Committee is to maintain and enhance a law firm environment and culture where attorneys from diverse backgrounds can succeed, achieve and lead internally at the firm, and externally in the community, to improve recruitment, retention and advancement of attorneys from diverse backgrounds, and to promote business and personal development business connections and networking activities.
Come join us, we welcome you!
---
2023 Session Location:
Registrants can attend the sessions either via Zoom or in person.
In person attendance:
Maddin Hauser Office
28400 Northwestern Highway
Southfield, Michigan 48034.
Click for map.
Zoom Attendance:
Details will be provided to registrants via email prior to the start of the program.
---
2023 Session Dates and Times:
All sessions will be held 8:00 – 9:00 am ET except Week Six.
---
WEEK ONE
Wednesday, June 14, 2023
Welcome
Associate Best Practices

WEEK TWO
Wednesday, June 21, 2023
Finance


WEEK THREE
Wednesday, June 28, 2023
Corporate/Litigation

WEEK FOUR
Wednesday, July 12, 2023
Employment Law

WEEK FIVE
Wednesday, July 19, 2023
Real Estate




WEEK SIX
Friday, July 28, 2023
12:00 – 1:30 pm ET
Career Marketing
Lunch Provided at Maddin Hauser Office
---
Full Session Details:
---
Week 1
Wednesday, June 14, 2023 | 8:00 – 9:00 am ET
WELCOME & ASSOCIATE BEST PRACTICES
Opening: Process, Schedule & Program Guidelines
Tanya E. J. Lundberg and Robert M. Horwitz
Introduction to Legal Malpractice and Ethics Issues
David M. Saperstein
Frequently Litigated Topics
Jesse L. Roth
Week 2
Wednesday, June 21, 2023 | 8:00 – 9:00 am ET
FINANCE
Mortgages
Jordan B. Segal
Seller Financing: The Wonderful World of Second Mortgages, Land Contracts and Leases with Option to Purchase
Gary A. Kravitz and Jordan B. Segal
Week 3
Wednesday, June 28, 2023 | 8:00 – 9:00 am ET
CORPORATE/LITIGATION
Initiating and Navigating a Shareholder Oppression Case, and a Derivative Action
John A. MacKenzie
Subpoenas and Discovery
Sydney E. Wright
Week 4
Wednesday, July 12, 2023 | 8:00 – 9:00 am ET
EMPLOYMENT LAW
Organizational Culture: Impact of Remote/Hybrid Workplaces
Mariel G. Newhouse
Mind the (Generation) Gap: Effective Communication in the Workplace
Jordan M. Small
Week 5
Wednesday, July 19, 2023 | 8:00 – 9:00 am ET
REAL ESTATE
Legal Issues/Challenges Arising in the Construction Industry
Martin S. Frenkel
Title Insurance
Deborah S. Lapin
Week 6
Friday, July 28, 2023 | 12:00 – 1:30 pm ET
CAREER MARKETING
Building Your Career / Marketing
Lunch Provided at Maddin Hauser Office
Kaitlin A. Brown