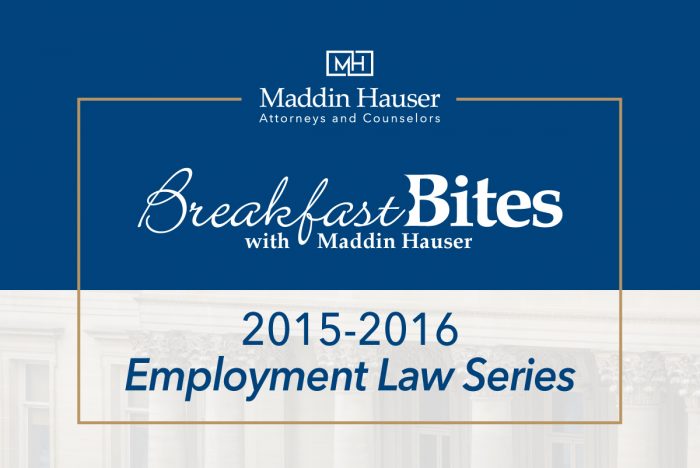 2015-2016 BREAKFAST BITES: Employment Law
Employment Law Series
Maddin Hauser's monthly educational series, Breakfast Bites, will cover numerous topics over the course of this year.
Please review the agenda and sign up for the sessions you would like to attend using the form at the bottom of this page.
Location:
The sessions will take place at Maddin Hauser, located at
28400 Northwestern Hwy, 2nd Floor, Southfield, MI 48034.
Complimentary continental breakfast will be provided.
---
Agenda:
Session 1 – Presented by Kathleen H. Klaus:
Administrative Charge of Discrimination – Lawyering Up
August 12, 2015, 7:30 am – 9:30 am
Session 2:
Incentive Compensation Arrangements: Attract, Motivate and Retain Key Employees
September 24, 2015, 7:30 am – 9:30 am
Session 3 – Presented by Marc S. Wise:
Affordable Care Act – 5 Things to Know
October 14, 2015, 7:30 am – 9:30 am
Session 4:
(Not So) Limited Liability: When Corporate Officers Become Personally Liable
November 11, 2015, 7:30 am – 9:30 am
Session 5
Social Media and Emerging Technologies: What Every Employer Needs to Know
December 15, 2015, 7:30 am – 9:30 am
Session 6:
Private/Non-Unionized Employers – Be Prepared for the NLRB's Broad Expansion of Employee Rights and Co-Employment Liability
January 13, 2016, 7:30 am – 9:30 am
Session 7 – Presented by Ronald A. Sollish:
Buyer/Seller Beware: Employment Issues Impacting the Sale of a Business
February 10, 2016, 7:30 am – 9:30 am
Session 8 – Presented by Charles M. Lax:
SHOW ME THE MONEY! Options for Retirement Benefits
March 9, 2016, 7:30 am – 9:30 am
Session 9:
THE REVOLVING DOOR OF EMPLOYMENT LEAVE: The Interplay Among the Employment Laws with Leave Requirements
April 6, 2016, 7:30 am – 9:30 am
Session 10 – Presented by Richard M. Mitchell:
Out of the Frying Pan, Into the Fire; Let the Litigation Commence
May 11, 2016, 7:30 am – 9:30 am