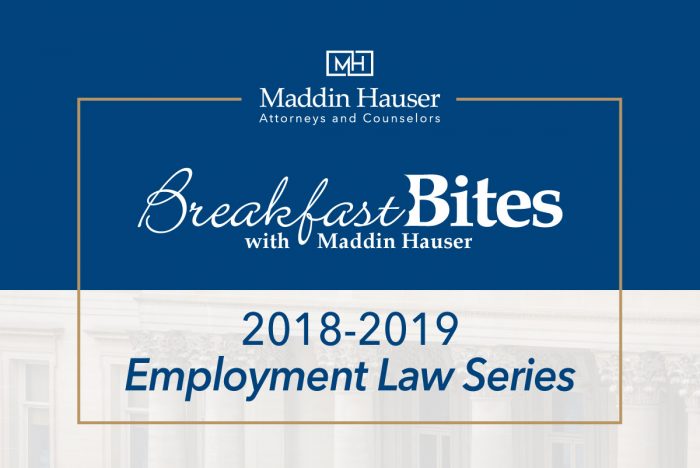 2018-2019 BREAKFAST BITES: Employment Law
Employment Law Series
Maddin Hauser's monthly educational series, Breakfast Bites, will cover numerous topics over the course of this year.

Please review the agenda and sign up for the sessions you would like to attend using the form at the bottom of this page. All Breakfast Bites sessions are complimentary.
Location:
The sessions will take place at Maddin Hauser, located at
28400 Northwestern Hwy, Southfield, MI 48034.

Complimentary continental breakfast will be provided.
Recertification:
Each Session is Pending:
1.5 HRCI Credits
1.5 PDCs for the SHRM-CPSM or SHRM-SCPSM
1.5 RCHs from the
American Payroll Association

Agenda:
Session 1:
Managing Unemployment Liability and Responding to Claims for Benefits
September 6, 2018, 7:30 am – 9:30 am
Download the presentation pdf
Session 2:
Managing Leave Issues while Navigating the Overlap between FMLA, ADA, GINA, Workers Compensation and Leave Policies
October 3, 2018, 7:30 am – 9:30 am
Download the presentation pdf
Session 3 – Presented by John A. MacKenzie:
Surviving an I-9 Inspection Conducted by U.S. Immigration and Customs Enforcement (ICE)
November 1, 2018, 7:30 am – 9:30 am
Download the presentation pdf
Session 4 – Presented by Kaitlin A. Brown:
Termination of Employment: Respecting Employees and Protecting Employers
January 3, 2019, 7:30 am – 9:30 am
Download the presentation pdf
Session 5:
Employee Performance Management: Successfully Implementing Employee Development Processes
February 7, 2019, 7:30 am – 9:30 am
Download the presentation pdf
Session 6:
Hiring the Right People the Right Way: A Guide to Onboarding Employees
March 7, 2019, 7:30 am – 9:30 am
Download the presentation pdf
Session 7 – Presented by Ronald A. Sollish:
Protecting Organizational Good Will and Business Assets
April 4, 2019, 7:30 am – 9:30 am
Download the presentation pdf
Session 8:
Workplace Training: The Importance of Employee Education as a Preventative Measure
May 2, 2019, 7:30 am – 9:30 am

Previous 2018-2019 Breakfast Bites Session Materials
Registration is now closed