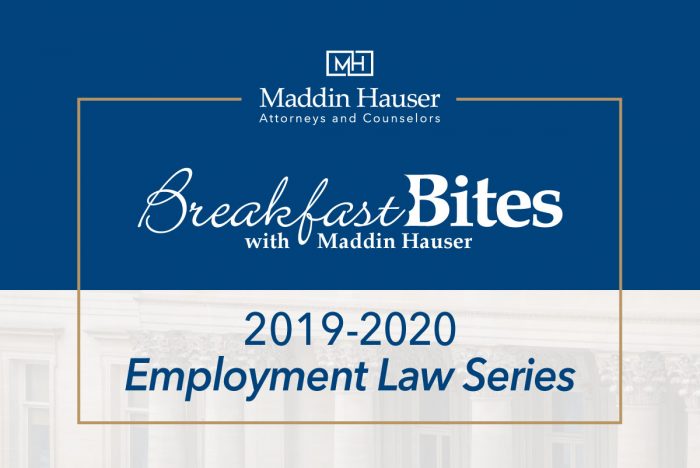 2019-2020 BREAKFAST BITES: Employment Law Series
Employment Law Series
Maddin Hauser's monthly educational series, Breakfast Bites, will cover numerous topics over the course of this year.
Please review the agenda and sign up for the sessions you would like to attend using the form at the bottom of this page. All Breakfast Bites sessions are complimentary.
---
Location:
The sessions will take place at
Maddin Hauser, located at
28400 Northwestern Hwy,
Southfield, MI 48034.
Complimentary continental
breakfast will be provided.
Recertification:
Each Session is Approved for:
1.5 HRCI Credits
1.5 RCHs from the
American Payroll Association
1.5 PDCs for the SHRM-CP®
or SHRM-SCP®.
---
Agenda:
Session 1 – Presented by Kaitlin A. Brown:
How to Make Remote Work – WORK
September 12, 2019, 7:30 am – 9:30 am*
Download the presentation pdf
Session 2 – Presented by Corinne S. Rockoff:
"Likes" and "Dislikes": Best Practices for Social Media Policies and Training
October 2, 2019, 7:30 am – 9:30 am*
Download the presentation pdf
Session 3 – Worker Classification:
Why it Matters and an Update on the Latest Trends
November 13, 2019, 7:30 am – 9:30 am*
Download the presentation pdf
Session 4 – Presented by Ronald A. Sollish:
Romance in the Workplace and Other Workplace Indiscretions
January 8, 2020, 7:30 am – 9:30 am
Download the presentation pdf
Session 5 – Presented by Kathleen H. Klaus:
Drugs, Violence, and Vaping: Drafting Employment Policies in the Age of Recreational Marijuana
February 5, 2020, 7:30 am – 9:30 am
Download the presentation pdf
Session 6 – Presented by John A. MacKenzie: Form I-9 Compliance and Updates
March 4, 2020, 7:30 am – 9:30 am
Download the presentation pdf
Session 7 – Leave Laws: Compliance, Coordination and Best Practices
April 1, 2020, 8:00 am – 9:30 am
*WEBINAR ONLY*
Download the presentation pdf
Session 8:
EEOC (Equal Employment Opportunity Commission) Discrimination Update
*POSTPONED*
*WEBINAR ONLY*