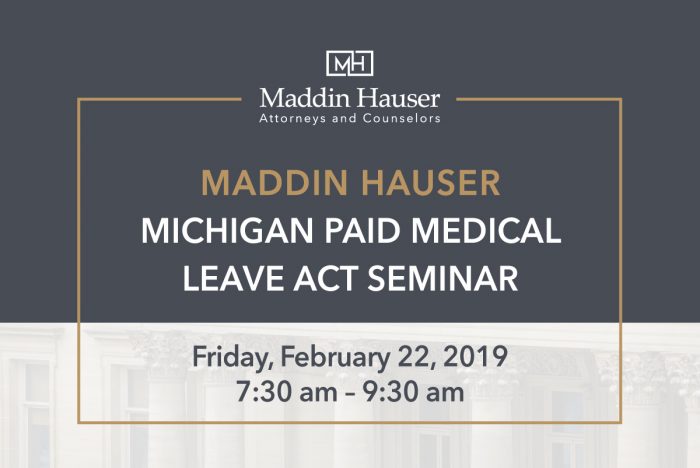 MICHIGAN PAID MEDICAL LEAVE ACT SEMINAR
Michigan recently adopted a Paid Medical Leave Act (the "Act").
Maddin Hauser's Employment Law Group is here to answer your questions and assist in developing a compliant policy for your organization.
REQUIRES PROMPT ATTENTION
Michigan Employers Must Comply with the
Paid Medical Leave Act by March 29, 2019
We invite you to attend our
MICHIGAN PAID MEDICAL LEAVE ACT SEMINAR
Friday, February 22, 2019
Networking: 7:30 a.m., Presentation: 8:00-9:30 a.m.
**LOCATION CHANGE**
THE MAPLE THEATER AND KITCHEN
4135 W. MAPLE ROAD
BLOOMFIELD, MI 48301
click for map
We will also be discussing how the Act interplays with
the Family Medical Leave Act and Americans with Disabilities Act.
This event is at capacity. Registration is now closed.
POLICY REVIEW: If you would like to have your policies reviewed by our legal team, please contact Karen Duckett at 248.359.6315 or kduckett@maddinhauser.com.
Due to the anticipated large volume of responses, Karen will complete the intake process and connect you with an attorney from our Employment Law Group to conduct the evaluation.
Here are answers to frequently asked questions:
Q: When does the Act take effect?
A: April 1, 2019. Employers covered by the Act must have a compliant policy by that date.
Q: Is my organization required to provide paid medical leave to our employees?
A: Yes, if you employ 50 or more employees.
Q. Which employees are entitled to receive paid medical leave?
A: Non-exempt (hourly) employees who worked at least an average of 25 hours per week during the preceding calendar year, with some exceptions.
Q. My company already has a paid time off or paid medical leave policy. Does my company have to implement another policy to comply with the Act?
A: If your current policy provides at least 40 hours of paid leave to all employees who are eligible for leave under the Act, there is a rebuttable presumption of compliance with the Act. Due to the many nuances with the Act, we recommend that any covered employer have its paid leave policy reviewed by legal counsel to ensure compliance.
Q: How much paid medical leave must covered employers provide to eligible employees?
A: At least 40 hours per benefit year.
Q: At what rate may covered employers provide paid medical leave?
A: The 40 hours of paid medical leave may either be made available at the beginning of the benefit year or accrued at a rate of at least 1 hour per 35 hours worked, with some limitations.
Q. Are eligible employees allowed to use accrued leave immediately?
A: Eligible employees must be permitted to use accrued leave immediately upon accrual, except that new employees may be prohibited from using the leave until after 90 days of employment.
This event is at capacity. Registration is now closed.