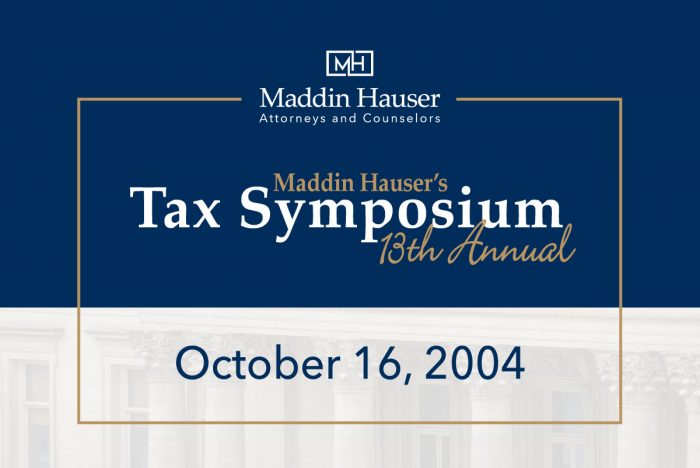 Thirteenth Annual Tax Symposium
---
Exit Strategies
What Do You Have to Sell?
How Much is it Worth?
Who Are the Potential Buyers?
Business Succession Planning Strategies
Plan Now or Pay Later
Kaizen
The Ways and Means
Incentives for Real Estate Developers
Low Income Housing Tax Credits
Federal and Michigan Historic Credits
Michigan Brownfield Credits
The Pendulum Swings at the IRS: Stepping Up Enforcement Activities
Watch Out for Those Tax Avoidance Transactions
Professional Responsibility for Tax Professionals
New Programs to Ensure Compliance
Fixing Defects in Your Retirement Plan: How to Take it to the Repair Shop
General Information on the EPCRS
Identifying the Types of Errors That Can Be Corrected
The Error Correction Process from Error to Submission to Re-Qualification
The IRS Claims I Owe Them Money, What Do I Do?
The Ability to Enter into an Installment Agreement
Is Innocent Spouse Relief Available?
The Use of an Offer in Compromise
"Intentionally Defective" Grantor Trusts – Boon or Bane?
• How to Use for Client's Advantage
• Typical Provisions
• The Maddin, Hauser, Wartell, Roth & Heller, P.C. "GREAT" Trust
Reports of the Family LLC's Death Have Been Greatly Exaggerated
Why Family LLCs are Used in Estate Planning
How the Courts Have Treated Family LLCs
Structure of a Successful Family LLC
Creative Financing Using SCINS and Private Annuities
What is a SCIN?
Private Annuity vs SCIN?
Estate of Costanza – A Great New Case!
Keeping the Family Cabin in the Family
Creating a Master Plan
Transfers from the Senior to the Junior Generations • Ongoing Management of the Cabin