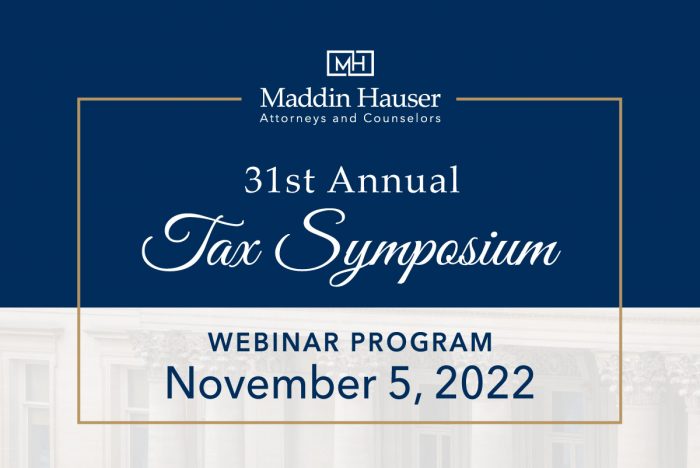 Thirty-First Annual Tax Symposium
Credits:
Four CPE credits will be available to CPAs who are eligible.
Location:
Due to the COVID-19 Virus and our concern for the health of our participants and staff, this year's Symposium will be presented virtually. Webinar details will be provided to participants prior to the event.
Download a printable pdf of the agenda.
To register, please scroll to the form at the bottom of the page.
---
Symposium Agenda:
I Know When I See It – Valuation Issues
Robert D. Kaplow
Uses of Valuations
Valuation Requirements
Accountant Assistance
Accounting Malpractice Litigation: What You (Hopefully) Never Need to Know
David M. Saperstein
Retention Agreements and the Statute of Limitations
Common Liability Issues: Standard of Care and Comparative Fault
Common Damages Issues: Tax Liability and Interest
Allocation of Purchase Price
Stuart M. Bordman
Allocation to Personal Goodwill
Requirements of IRS §1060
Issues in Completing IRS Form 8594
Roundup of Recent Tax Developments
William E. Sigler
New Laws, Cases and Rulings
Hot Topics and Pending Legislation
Practice Pointers
When the Battle is Lost and Won
Jordan B. Segal
When are Litigation Recoveries Taxable?
When are Litigation Losses Deductible?
Practical Advice for Interfacing with the Litigators
Trust Administration: The Grantor Has Died and You Are Successor Trustee: Now What? (Hint: Call the Lawyer)
Geoffrey N. Taylor
What Must You Do?
What Should You Do?
What Shouldn't You Do?
The CPA Privilege and Responding to a Subpoena for Clients' Tax Returns, Emails and Notes
Rita M. Lauer
Michigan Law MCLA 339.732 – the Purpose Behind the Statute
What Information are You Required to Provide?
How Do You Exercise the Privilege?
A Changing Retirement Plan Environment: Things I Never Thought I'd See
Charles M. Lax
New IRS Pre-Examination Pilot Program
Retroactive Adoption of New Retirement Plans
Update on Cryptocurrency in Retirement Plans
---
Registration:
Register for this event: